I am a real estate agent and photographer Juha Rintamäki.
I have completed the Finnish Chambers of Commerce a licensed real estate agent (LKV) and the rental of the apartment broker (LVV) test.
I have also shown my professional qualifications in highly valued (KiAT) professional real estate qualification.
I have been photographing since 1986.
My first steps into photography were generated by a Finnish photographer and graphic artist Toivo Anttila.
The photography spark then grew to a flame during the mid 70's as I watched him mysteriously create images in his darkroom.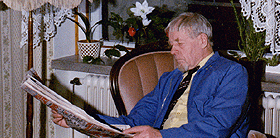 If I had of been older I would of carried on with Toivo's photographic work after his retirement at the end of the 70's.
It took a few more years until 1987 for me to build my own darkroom in Aura and was then happy to put to use the equipment I had inherited from Toivo Antilla.
Overtime the darkroom has now shifted to a computer, the old equipment is now just a part of the decorations.
My studio is based in an old Farm house in Aura, that plays host to a wonderful courtyard.
I do all kinds of photography, I have portable lighting equipment so can easily setup on site at your office, home or on location.
My photos have also received positive attention in social media from various photography sites, and my photos have also been published internationally.
If your looking for a professional reliable service at good rates, please feel free to contact me through the website or by phone.